I had just 'ragged in' with Cementation Minining (now Skanska) in 1994. The contract had come to an end. It had been a 30-month contract that involved tunnel refurbishment, drill and blast mining and shaft sinking. Some of my mates went to Hong Kong and Vietnam, however I had a young family so I opted to stay in the UK and I consequently set up natm magazine.
These are a series of photograph's taken from the last 20 years. I'll be as honest as I can, so it should make okay reading.
If you right click the photo a new page will open with the other photo's from that site visit. (continually UNDER CONSTRUCTION)
Johnston Construction - Stirling Forthside Sewer - Value £3.1M
Date 2002
This is TBM Operator Paul Mattheis coming out of the can. According to Stuart Weatherley - who claims he was at the back of the can at the time- The guy to the left is young Jim Broomfield.
Click the photograph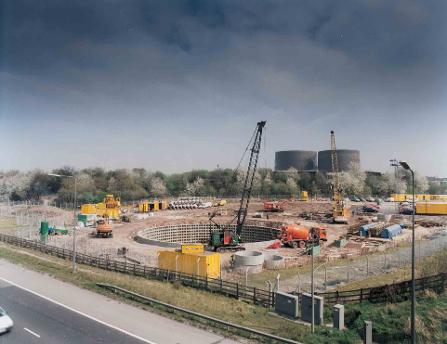 Donelon - Denton Storm Attenuation Tank, Manchester.
April 1999.
Every contractor in the north west was after this job. A 30.0m dia. by 25m deep shaft at the side of the M60 Manchester Ring Road at its junction with the M67. There was also several spans of microtunnel around an industrial estate.
Morpeth-based Angleglobe were utilised as sub-contractor and Peter Cowsill did some dewatering on the shaft.
It may be that Darren Ramsay, now head of tunnelling with J Murphy & Sons was Site Agent on this job.