Peter Duffy undertook twin 1.80m dia. Pipejacks off Cleckheaton Road as part of a STW storage and transfer scheme for main contractor Kvaerner Construction (now Skanska). October 1998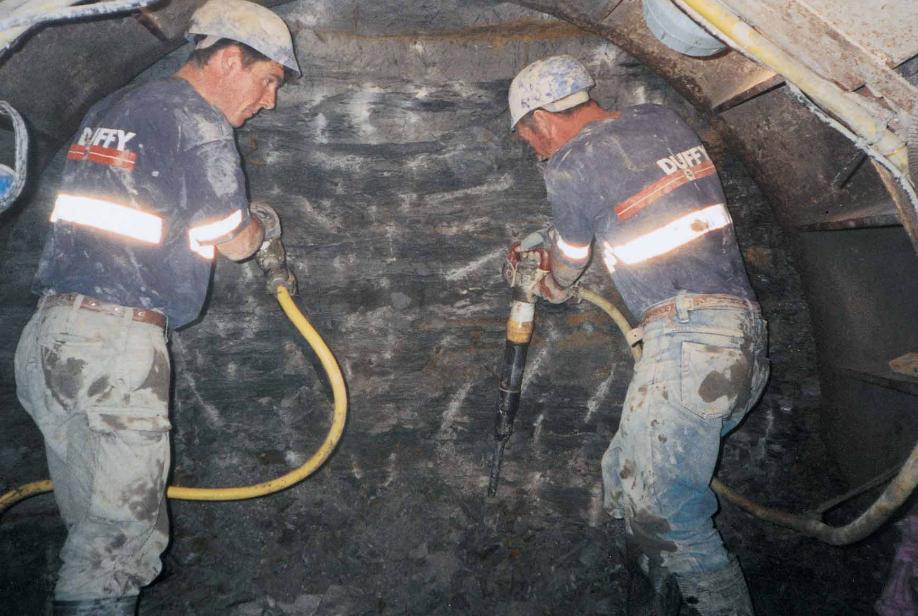 Photograph. Hand mining through rock
By James Durose-Rayner
Editor, natm
Peter Duffy's Tunnelling and Trenchless Manager at that time was Joe Walker. A brilliant guy and you couldn't wish to meet a nicer person.
A total gentleman.
Joe explained that Duffy's needed to hire in two-shields for this tunnelling job off Cleckheaton Road, Victoria Park in Oakenshaw (off the M606). He initially went to Geoff Clarke of Oldham-based Tunnel Engineering Services UK - however Geoff only had one in his yard - the others were out on site and it'd be a couple of weeks before one of them was back in.
Therefore Joe asked (my mate) Jimmy Quinn of Queghan Civil Engineering if he had one available, and of course Jimmy did. Jimmy always had some tunnelling plant available!
Tunnelling set off and within days the shield Joe had on hire from Queghan broke down. In fact it continually broke down - In short it was a 'dog' and Duffy ended up missing the window they had for going under some Network Rail infrastructure - which incidentally is now the Spen Valley Greenway part of Sustrans' Route 66 - and they had to re-apply to the rail company.
12 weeks it took, and during that time Jimmy's shield was buried in the ground doing nothing and costing Duffy's (on hire) money. Joe tried working out some deal with Queghan, but Jimmy wasn't having any.
"He was a bloody hard man to deal with," stated Joe. "I now wished I'd have waited for that other shield from Geoff Clarke."
When I saw Jimmy at a ICE or UKSTT do a few weeks later Jimmy told me. "Hey, we did really well out of that job, Jamie."
But that was Jimmy - Bless him.
Photograph (Right). The 'dog' of a shield hired in by Duffy's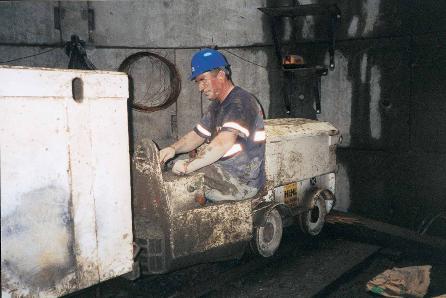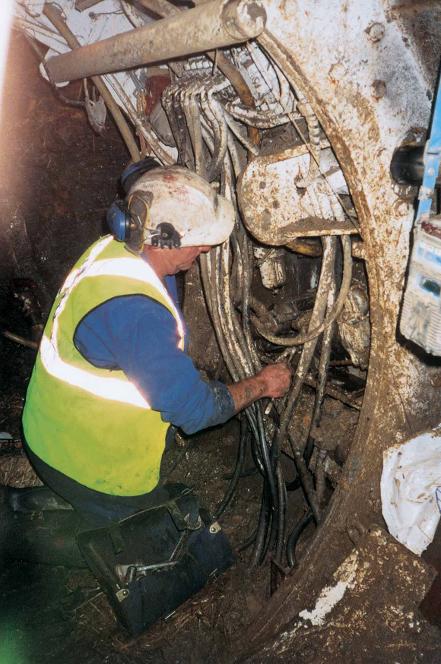 Photograph (Left). The tunnel face for muckaway was served by an electric loco.